Dr Rohini Tirumala Sathish BVSC & AH MSC MRCVS MHAO MCIVT is an award winning, highly experienced Holistic Integrative Veterinarian and a Qualified Animal Healer. She has a proven 21yr track record as a successful Veterinary surgeon and popular clinician in both the United Kingdom and India. She regularly appears on Global Television and radio, answering questions on pet health and animal welfare.
She qualified as a Veterinary surgeon from a reputed university in Southern India. During her graduation, she was awarded the "Best Lady Veterinarian" prize and gold medals in recognition of her academic excellence. Due to Rohini's ardent desire to better the welfare of stray dogs, she worked as Humane Education Officer and Veterinarian for an Animal Welfare Charity called Compassion Unlimited Plus Action in Bangalore, which was founded by Crystal Rogers.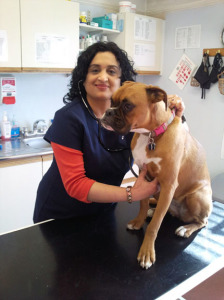 1996, she won a prestigious International Scholarship to study MSC Wildlife Management at the University of Reading, UK. She completed the degree with distinction. In 2000, Dr Rohini Sathish was awarded the MRCVS. Since then she has been practicing as a Veterinarian in practices within the UK. She has always been a very popular vet because of her compassionate nature and excellent consulting room skills. As a proficient surgeon, she performs Small Animal orthopaedic and soft tissue surgery at an advanced level.
After a rather serendipitous meeting with Animal Healer Elizabeth Whiter she trained and qualified as an Animal Healer at the Healing Animals Organization (HAO), which was an amazing transformational journey for her. Dr Rohini Sathish is now the Chief Veterinary consultant and media spokesperson for the HAO (www.healinganimals.org). Elizabeth and Dr. Rohini are now combining their expertise and working towards fulfilling their vision to enhance the lives of animals worldwide. They have co-authored a book together titled "You Can Heal Your Pet."
Dr Rohini, as she is popularly known to many pet guardians, is a director of the FOBK (Friends of the Birkenhead Kennels) and a member of the British Small Animal Veterinary Association, College of Veterinary Integrative Veterinary Therapies & The Association of British Veterinary Acupuncturists. Rohini now actively integrates holistic
complementary therapies in her practice and has since trained in acupuncture, herbal therapies, animal healing and TCVM. She believes that they help fill the gaps in conventional veterinary medicine and add to her tool kit, enabling her to be an even better, complete veterinarian.
Dr Rohini has published several articles in newspapers, magazines and journals in India and in the UK both in English and in Hindi. She is very fluent in English and 6 other languages. Rohini is a natural orator and has won several debating and elocution competitions. She trained in Indian classical music for 16yrs since the age of 6 and has won innumerable competitions and awards both at school and university level as a soloist vocal soprano. Rohini has continued to perform in the UK and has given several performances in that country and around the world. She is a professional singer, has released several albums and mainly sings at charity fundraising events (www.rohinistar.com). She is married to Dr JG Sathish, has one daughter who is in law school and shares her home with a crazy Bullmassador named Troy.
"I chose to be a veterinarian instead of becoming a doctor or a dentist because of my love for animals. I believe that helping and healing these wonderful creatures, who cannot speak for themselves, is my life purpose. Being an honest and authentic veterinarian with integrity is very important to me."- Dr Rohini Tirumala Sathish MRCVS